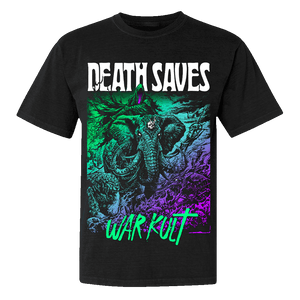 WARKULT

The sound of a low pitched horn reverberates back and forth between canyon walls and fills the valley below, awakening savage jungle cats whose deafening roars block out all other sound. Then out of the confusion, what seems like an earthquake shakes the ground below as tree trunks crack and split above like claps of thunder. The forest explodes in wood shards, and teeth, and claws. Bloodshed and chaos follow as the massive War Elephant emerges flanked by armored war lions spurred on by Death itself.

This incredible VISION OF DOOM is brought to life by Indonesian metal artist Toha Mashudi that merges hard edged psychedelia with an acid green to lux purple color gradient and throwback 70s typography.

-

WASHED / VINTAGE FIT:
6.1 oz
100% ringspun cotton
Double needle collar
Twill taped neck and shoulders
Double needle armhole, sleeve and bottom hems
Designed & Manufactured in USA.
Please see our updated size charts to get the right fit for you!